Key Features
ATEX and IECEx Certified
T4/T5 temperature class
Ultra small size
Lightweight, ergonomic design
Proven impact resistance
Single handed switching
Switch protection shroud
Integral pen style pocket clip
IP67 water and dust tight
Gas and Dust Approval
Group I Mining Approval
The Wolf range of Mini and Micro Torches, certified for use in potentially explosive atmospheres, use high-tech light sources to give impressive performance with a compact size. Designed for easy storage in a pocket, they are the perfect torch for any application where a small size is critical.
All four models are compliant with the 94/9/EC ATEX 'Explosive Atmospheres' Directive and certified to IECEx for use in potentially explosive gas, vapour, mist or dust atmospheres, where a T4 or T5 temperature class permits. Additionally, all models are approved to Group I for use in mining applications.
The three models with LED light sources; the M-10 Micro, the M-40 Mini and M-60 Mini are approved as Category 1 equipment for use in Zones 0, 1 and 2, whilst the M-20 Xenon Mini is approved as Category 2 equipment for use in Zones 1 and 2.
The M-10 Micro has a single white 5mm 'Nichia' LED light source and is powered by four alkaline LR44 'button cells', giving an impressive beam with a two hour duration from a very compact size.
The M-20 Mini uses a Xenon filament bulb powered by two LR03 'AAA' cells, giving an excellent narrow beam of light with good range and up to 2.5 hours duration. The M-40 Mini has a cluster of three white 5mm 'Nichia' LEDs, and the M-60 Mini uses a single high power Cree LED giving a remarkable light output; both products are powered by three alkaline LR1 'N' cells giving up to ten hours of usable light with the M-40 and up to 3.5 hours* of usable light with the M-60.
The Mini and Micro Torch Range have an ergonomic design and are constructed from high quality thermoplastic resin, with excellent impact and chemical resistance. The polycarbonate lens has been set-back within the lens ring to minimise risk of damage. All models have a lanyard hole, an integral pocket clip for secure retention and to prevent roll on a flat surface, and a push-button for single handed switching, which is shrouded to guard against accidental operation. Additionally all models are certified IP67, sealed against water and dust ingress.
Mini and Micro torches are supplied with cells, the M-10 Micro is supplied with a neck cord for added convenience.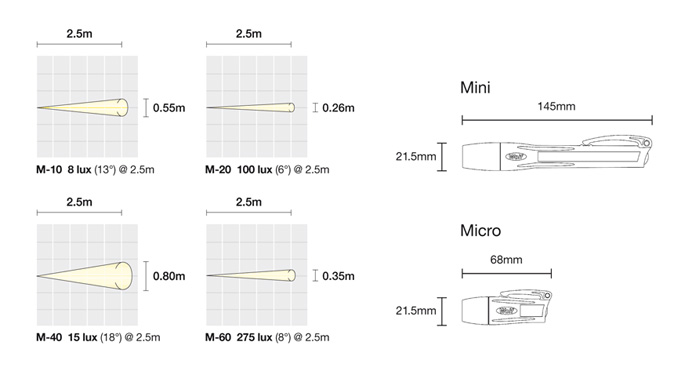 Product reference
M-10
M-20
M-40
M-60
Product description
LED Micro Torch
Xenon Mini Torch
LED Mini Torch
1 watt LED Mini Torch
Code
Industrial
II 1 GD Ex ia IIC T5 (Ta=50°C) tD A20 IP67 T80°C
II 2GD Ex ib IIC T4 tD A21 IP67 T80°C
II 1GD Ex ia IIC T4 (Ta=50°C) tD A20 IP67 T80°C
Mining
I M1 Ex ia I IP67
I M2 Ex ib I IP67
I M1 Ex ia I IP67
Type of protection
"ia/ib" Intrinsic Safety
Area of classification (gas)
Zones 0, 1 & 2
Zones 1 & 2
Zones 0, 1 & 2
Temp. classification (gas)
T5
T4
Ambient temperature
-20°C to + 50°C
-20°C to + 40°C
-20°C to + 50°C
Area of classification (dust)
Zone 20, 21 & 22
Zone 21 & 22
Zone 20, 21 & 22
Max surface tempeature (dust)
80°C
 80°C
 80°C
Certification
Baseefa06ATEX0084
IECEx BAS 06.0023
Enclosure
Impact resistant thermoplastic, electrostatic non-hazardous
Lens
Polycarbonate
Beam type
Medium Spot
Narrow Spot
Medium Spot
Light source:
Pt. no.
-
M-201
-
-
Type
1x5mm LED White (Nichia)
Xenon filled filament bulb
3 x 5mm LED White (Nichia)
1 x high power Cree LED
Rating
-
2.3V 0.3A
-
1 Watt
Output
30 cd
15 lm
3 x 30 cd
up to 90 lm
Life
25,000 hrs
30 hrs
25,000 hrs
Power source:
Pt. no.
M-102 (4 pack)
M-202 (2 pack)
M-402 (3 pack)
Type
LR44 primary cells
to IEC60086
LR03 primary cells
to IEC60086
LR1 primary cells
to IEC60086
Volts
4 x 1.5V
2 x 1.5V
3 x 1.5V
Light duration
up to 2 hrs
up to 2.3 hrs
up to 10 hrs
1.5 - 3.5 hrs*
Ingress protection
IP67 to EN60529:1992
Weight (incl. cells)
25g
60g
All information has been gathered under laboratory conditions, the user must regard the values given as approximate
Changes may be made to the above specification without notification, details are available on request.
*M-60 battery duration/light output is dependent on battery make and type