Key Features
ATEX Approved for Zone 1 explosive Gas atmospheres
Compact and solid hard rubber reel body with flat steel frame
Internal brake which does not produce friction on reel body
Fitted with ATX or CEAG plugs and sockets with 30m HOFR cable
110V or 230V Input Voltage available Facilitates maintenance tasks
Alternative voltage, plugs and sockets available on request.
Fully compatible with Wolf Safety's Temporary Lighting Solutions.
The Wolf ATEX Cable reel is CE marked to the 94/9/EC ATEX Equipment Directive for safe use in Zone 1 (Cat 2) IIC, where a T6 temperature class permits.
Operating from 230V or 110V, the cable reel allows for a number of different lighting solutions to suit many scenarios. Using various configurations of the Wolf LinkEx™ LED Temporary Luminaire, Wolf LinkEx™ LED Floodlite and other cable powered products from the temporary lighting range, the cable reel enables a bespoke set up of task and ambient lighting.
The cable reel facilitates chains of lighting in different areas to be linked together and extended from one central point, allowing for a greater surface area to be illuminated quickly and easily. An added benefit of the cable reel is the ability to power ancillary equipment alongside lighting for maintenance type tasks offering a fully flexible solution.
Built to the same high standards as the Wolf Safety transformers, the cable reel is robust and compact ensuring that it can withstand the harshest of environments and is always ready for use.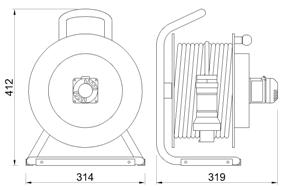 Product Reference
LL-300 ATEX Cable Reel
Code
II 2 G Ex de IIC* T6 
Type of Protection
"e" increased safety / "d" flameproof
Classification (Gases)
Zones 1 & 2 Gas Groups IIA, IIB IIC*
Temperature Class (Gases)
T6
Ambient Temperature
-20°C to +40°C
Certificate
PTB03ATEX1186
Model Number: LL-300 /
110/ATX
230/ATX
110/CEAG
230/CEAG
Voltage and Sockets/Plugs
110V
230V 
110V
230V 
ATX
CEAG
Input cable
30m HOFR cable 2.5mm2
Size
412mm x 314mm x 319mm (H x W x L)
Weight (with 30m cable)
11.9Kg
12Kg 
Ingress Protection
IP54
Power Rating 
110V
450W (wound) / 1700W (unwound) 
230V
1000W (wound) / 3600W (unwound)
*Use of the cable reel for the explosion group IIC is only permitted if the cable reel is connected to the supply before connecting to the output socket or the cable reel is on a dissipative floor or dissipative and grounded base. Otherwise, the cable reel can only be used for explosion groups IIA and IIB in Zones 1 and 2.
All information has been gathered under laboratory conditions, the user must regard the values given as approximate.
Changes may be made to the above specification without notification, details are available on request.
Rental Rate
S$45.00 / Day
(min rental period is 7 days)
Model: LL-300
CE Marked to ATEX directives and IECEx
Dust protected & spray water to IP54
Power rating to 3600W
fitted with 30m cable and ATX plug and Socket Weight excl cable 12kgs
Area of classification (Gas): Zones 1 & 2
Temp. classification (Gas): T6
Suitable for 230V input/output
Please contact us to rent this product.