Key Features
ATEX approved for use in Zone 1 and 2 explosive gas and dust atmospheres
Robust and durable construction
Transportable and portable design
Wide range of voltages available
Fitted with 4 x ATX socket outlets
Supplied with 15m SY cable and ATX plug
CEAG, STAHL and Marechal socket/plug options available
Power temporary ambient and task lighting and ancillary maintenance equipment
The Wolf ATEX Transformers are CE marked to the 94/9/EC ATEX Equipment Directive for safe use in Zone 1 potentially explosive gas and dust atmospheres, where the T class and ambient temperatures permit.
Operating from 230V or 110V to 24V and 230V to 110V, the 400VA Ex transformers are intended for use with the Wolf range of temporary ambient and task LED and Fluorescent lights and with ancillary equipment for maintenance tasks.
As standard, Transformers are supplied with a 15 metre input cable fitted with an ATX plug and with four ATX output sockets fitted to the enclosure.
The Transformers are available with a stainless steel or GRP enclosure, sealed to IP66, enabling use in wet and dusty conditions. In addition, a stainless steel outer protective skid makes the unit stronger and easier to handle for temporary installations ensuring that it can withstand the harshest of environments.
Wolf also offers bespoke high power single and three phase ATEX transformers, which can be fitted with RCDs and MCBs plus mains distribution units, splitter boxes, extension leads and cable reels.
All Wolf's ATEX power distribution systems are robust and durable in their construction, compact and portable for easy handling and fully flexible to enable different configurations to be built to your specific hazardous area requirement.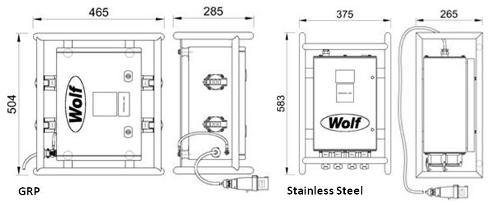 Product Reference
LL-114
LL-214 
LL-221
LL-124
LL-224
Product description
GRP
GRP 
GRP 
Stainless Steel 
Stainless Steel 
110V:24V 
 230V:24V
 230V:110V
 110V:24V
230V:24V
Code
II2 GD Ex ed IIC T3
Ex tD A21 IP66 T200°C
II2 GD Ex ed IIC T4 
Ex tD A21 IP66 T135°C
Type of Protection
'e' increased safety, 'd' flameproof
Area of Classification (Gases)
Zones 1 and 2, Gas groups IIA, IIB and IIC
Temperature Class (Gases)
T3
T4 
Area of Classification (Dusts)
Zones 21 and 22
Max. Surface Temperature (Dusts)
T200°C
T135°C 
Ambient Temperature
-20°C to +55°C
-20°C to +40°C to 350VA
-20°C to +30°C to 400VA 
Certificate
LCIE02ATEX6248X
SIRA08ATEX3182X 
Enclosure
Glass reinforced polyester (GRP) enclosure, stainless steel skid
Stainless steel enclosure (marine grade 316L), stainless steel skid 
Power
400VA 
Volts In
110V ac 
+6% -10%
230V ac 
+6% -10%
110V ac 
+6% -10%
230V ac 
+6% -10% 
Input Cable
15m SY cable 4mm² with ATX 110V / 230V 2P+E plug fitted as standard
Volts Out
24V
110V
24V
Socket Arrangement
4 output sockets, ATX 110V / 24V 2P+E as standard
Socket Configuration
2 sockets on each unit side
4 output sockets on unit side 
Dimensions
504 x 465 x 285 mm (L x W x H) 
580 x 370 x 270 mm (L x W x H) 
Ingress Protection
IP66 
Weight
21 Kg 
23 Kg 
CEAG, Stahl and Marechal plug/socket options and longer SY input cable available on request.
Ships braided cable for offshore applications to BS6883 available on request.
Changes may be made to the above specification without notification, details are available on request.
All information has been gathered under laboratory conditions, the user must regard the values given as approximate.